The Women in Data & AI Forum is an exclusive forum with a pool of successful women leaders from recognized brands coming together, evangelizing and promoting the importance of women in technology leadership roles and discuss important issues related to this shift. This virtual forum will focus on issues that technology is solving, as well as the challenges that women are facing in the tech world.
Join Convergint's CIO Bhuvana Badrinathan and other industry experts on Thursday, April 7th where women can network, share ideas and best practices, support one another's growth, and build a thriving community of women thought leaders in data and AI.
Advancing Social Impact through Data
Thursday, April 7th, 2022 | 10:30 AM EDT
This webinar will include:
An exploration of how data and AI can be a catalyst for social good

What ethical concerns are being recognized when using data and AI

Mentoring and coaching for aspiring women leaders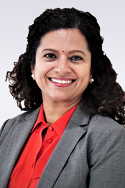 Bhuvana Badrinathan
Chief Information Officer, Convergint
Bhuvana Badrinathan has over 20 years of experience in technology, including software development, data strategy, service delivery, and infrastructure. She joined Convergint in 2019 as Chief Information Officer. Prior to working at Convergint, Bhuvana served in various technology and executive management roles in different industries, including financial services, eCommerce retail, and insurance brokerage.