Chief Information Officer Bhuvana Badrinathan was recently featured in a StrategicCIO360 article discussing how the role of the CIO is changing with the evolution of digital transformation leading into the Fourth Industrial Revolution.
In this CIO spotlight feature, Bhuvana gives insight into Convergint's IT initiatives, why the company's Values and Beliefs are foundational, and how to prepare for the Fourth Industrial Revolution. Read the full article here.
On the shifting role as the CIO
"A tremendous amount of complexity and business intelligence is developing, creating more opportunities for CIOs in the future to unify data from multiple sources and identify ways businesses can strategically apply and benefit from an operational and business outcome perspective."
~Bhuvana Badrinathan, Chief Information Officer, Convergint
On digital transformation
"There are two significant initiatives that I pursued through our organization to help us achieve digital transformation: the first is our latest enterprise resource planning implementation, and the second is the initiation of a data team. Data is something that businesses need to streamline operations and create stronger teams, which help drive better business outcomes and customer satisfaction. "
~Bhuvana Badrinathan
On culture and leadership
"Our culture is the most critical aspect of our company. Whether it be at the executive level or with our frontline colleagues, every decision must align with our Values and Beliefs. They guide us collectively as an organization to make the best decisions on behalf of our customers, colleagues and communities. It's an accepting, exciting culture, empowering people to do their best daily with no boundaries, only guiding principles."
~Bhuvana Badrinathan
On advice for future leaders
"There will continue to be a tremendous amount of data available, allowing businesses to make strategic, data-informed business decisions to improve experiences and streamline operational efficiencies. Whether you're looking to become a CIO or not, technology skills will be critical in the path forward. I encourage all future leaders never to stop learning or growing."
~Bhuvana Badrinathan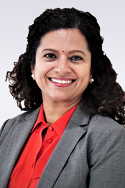 Bhuvana Badrinathan
Chief Information Officer, Convergint
Bhuvana Badrinathan has over 20 years of experience in technology, including software development, data strategy, service delivery, and infrastructure. She joined Convergint in 2019 as Chief Information Officer. Prior to working at Convergint, Bhuvana served in various technology and executive management roles in different industries, including financial services, eCommerce retail, and insurance brokerage.