Chief Information Officer Bhuvana Badrinathan was recently featured in an IDG Connect article discussing her professional career. With over 20 years of experience, Bhuvana is an expert in technology, software development, data strategy, service delivery, and infrastructure.
In this CIO Spotlight feature, Bhuvana gives insight into her early career and education and discusses business and technology initiatives that will be significant to Convergint in the coming year. Read the full article here.
On the path to her career
"I began my IT career as a software developer, predominantly working with Microsoft technologies and various back-end systems. I really enjoyed finding solutions, and at the time, I saw myself staying on the more technical side. Management was not something that I was working towards early in my career, but I started seeing certain aspects of the management process that I felt could be better, and it has inspired me to embark on the management side. I realized my desire and passion for helping those in the field grow in their careers. I've always been interested in assisting colleagues, helping them understand their passions, and matching their talents with business opportunities to grow with the business. This is what led me to management and what keeps me here—helping people grow and become successful is my passion."
~Bhuvana Badrinathan, Chief Information Officer, Convergint
On digital transformation
"We've reached an inflection point in the tech world, often referred to as the 'Fourth Industrial Revolution' or 'Industry 4.0.' This is where the Internet of Things (IoT), services, data, and people are all converging to become better connected. This means that our myriad of systems all need to be able to communicate with each other.
By integrating data across various business segments and then unlocking that data's value by transforming it into intelligence, we can better adjust, respond, and progress. We are no longer trying to balance operational efficiency and revenue growth, but instead, we are creating the ability to do both while ensuring a great customer experience."
~Bhuvana Badrinathan
On advice to aspiring IT leaders
"I would say the following: always be curious; be aware of where you spend your energy; hire people smarter than you; most importantly, stay empathetic while driving hard for results."
~Bhuvana Badrinathan
On what she would have done differently looking back
"I would have joined Convergint earlier."
~Bhuvana Badrinathan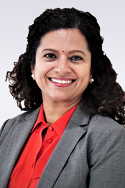 Bhuvana Badrinathan
Chief Information Officer
Bhuvana Badrinathan has over 20 years of experience in technology, including software development, data strategy, service delivery, and infrastructure. She joined Convergint in 2019 as Chief Information Officer. Prior to working at Convergint, Bhuvana served in various technology and executive management roles in different industries, including financial services, eCommerce retail, and insurance brokerage.