Convergint's greatest strength is its people. Convergint Nation is made up of a diverse network of global colleagues who believe wholeheartedly in a service-first mission and guiding Values and Beliefs. Convergint encourages colleagues to live the Values and Beliefs on a daily basis, whether at home, at work, or in their communities. None are more important than the other, but "We embrace a safe, inclusive, and positive work environment" best represents the commitment Convergint colleagues have to ensure diversity, equality, and accessibility are considered in strategic management initiatives, to assist in the alignment of strategic planning with I&D objectives, and to develop and support initiatives aimed at promoting inclusion.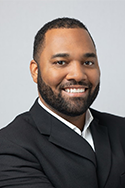 Yaruba Tate
Vice President of Inclusion & Diversity
Learn more about the Inclusion & Diversity Council members below.
Vice President of Inclusion & Diversity Yaruba Tate announced that the council will continue to grow across EMEA with new members dedicated to Convergint's I&D initiatives. This annual refresh of councilmembers is an important reflection of Convergint's commitment to ensuring diverse perspectives and voices brought onto the team to review the company's programs, policies, and initiatives as they relate to Inclusion & Diversity.
About Convergint
Convergint is a global, service-based systems integrator focused on mission-critical security, fire, and life safety infrastructure. Convergint offers last-mile delivery for emerging technology, backed by a 20-year commitment to its core value of service. To learn more, contact a Convergint expert today.